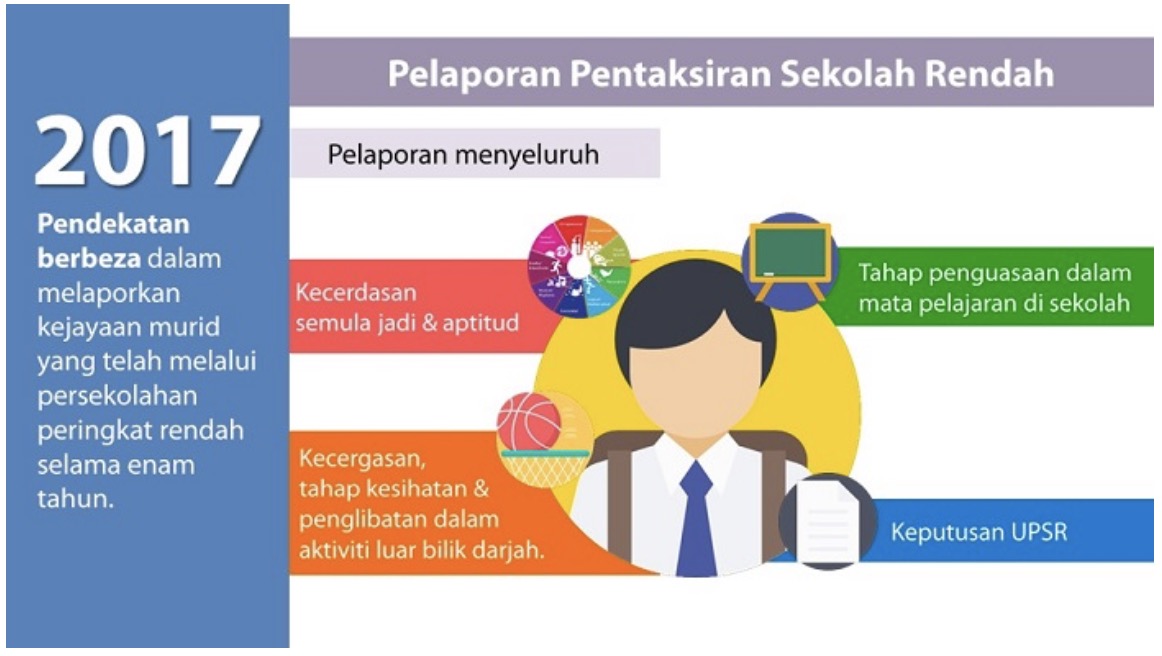 The PPSR Pelaporan Pentaksiran Sekolah Rendah by the Ministry of Education Malaysia is another implementation of the new system in the education world of our country. From day to day, various changes, innovations and demands of the paradigm are being attempted by the ministry to ensure that our country's education is comparable with the developed countries out there.
Well, before we go further let's get to know more about PPSR. Okay, let's see what this new Pelaporan Pentakisran Sekolah Rendah is actually.
What is PPSR Pelaporan Pentaksiran Sekolah Rendah?
The PPSR is briefly referred to as the latest report to provide information on the student's incidence at the end of their lower education . For more details, the Pelaporan Pentakisran Sekolah Rendah or the abbreviation of the PPSR is a new assessment as a result of the implementation of the Pentaksiran Berasaskan Sekolah (PBS) to be implemented from 2018.
This PPSR is implemented to assess the achievement of all students holistically at the primary education level (primary school) in order to replace the existing Standard 6 Assessment (UPSR) test. It is also in line with the ministry's efforts to bring our country's education level towards higher through (21st Century Education).
The Difference Between UPSR and PPSR
| | |
| --- | --- |
| UPSR | PPSR |
| Exam Oriented Education | Holistic |
| Academic | Combination of 4 Main Elements |
The 4 Components in PPSR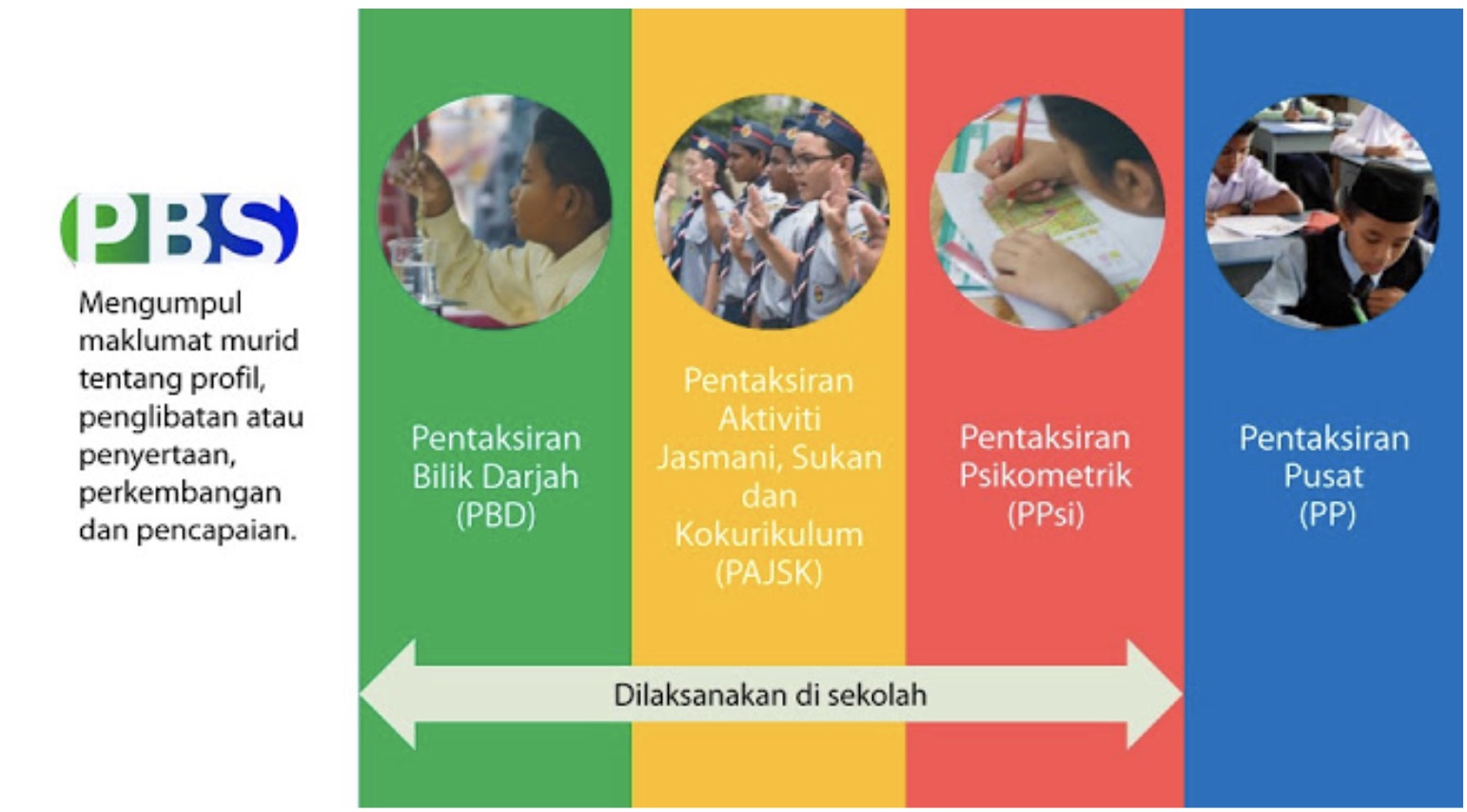 As we all know, Pelaporan Pentakisran Sekolah Rendah or PPSR has 4 main components:
Pentaksiran Bilik Darjah (PBD)
Pentaksiran Aktiviti Jasmani Sukan Dan Kokurikukum (PAJSK)
Pentaksiran Psikometrik
For your benefit, we will go through each component of PPSR
Component 1: Recognize What is PBD Pentaksiran Bilik Darjah for PPSR
PBD or more Pentaksiran Bilik Darjah is a continuous assessment of teaching and learning sessions for information on progress, progress and abilities and achievement of students. So, this PBD is actually formative and prioritizes the progress of each student as well as helping teachers to create individual and comprehensive diagnostics.
Pentaksiran Bilik Darjah can help teachers in terms of:
Encourage inquisitive, critical and creative thinking in the student.
Identify students' strengths and weaknesses in learning.
Apply divine values, student values, aesthetics and patriotism.
Detect pupils development thoroughly.
Plan and modify its teaching methods.
Knowing the effectiveness of teaching.
Take immediate follow-up action..
For all, this PBD is implemented for all subjects with various assessment methods by teachers teaching the subject. What is more interesting is that the level of mastery (TP) of students is no longer an individual comparison between their peers but is a standard of achievement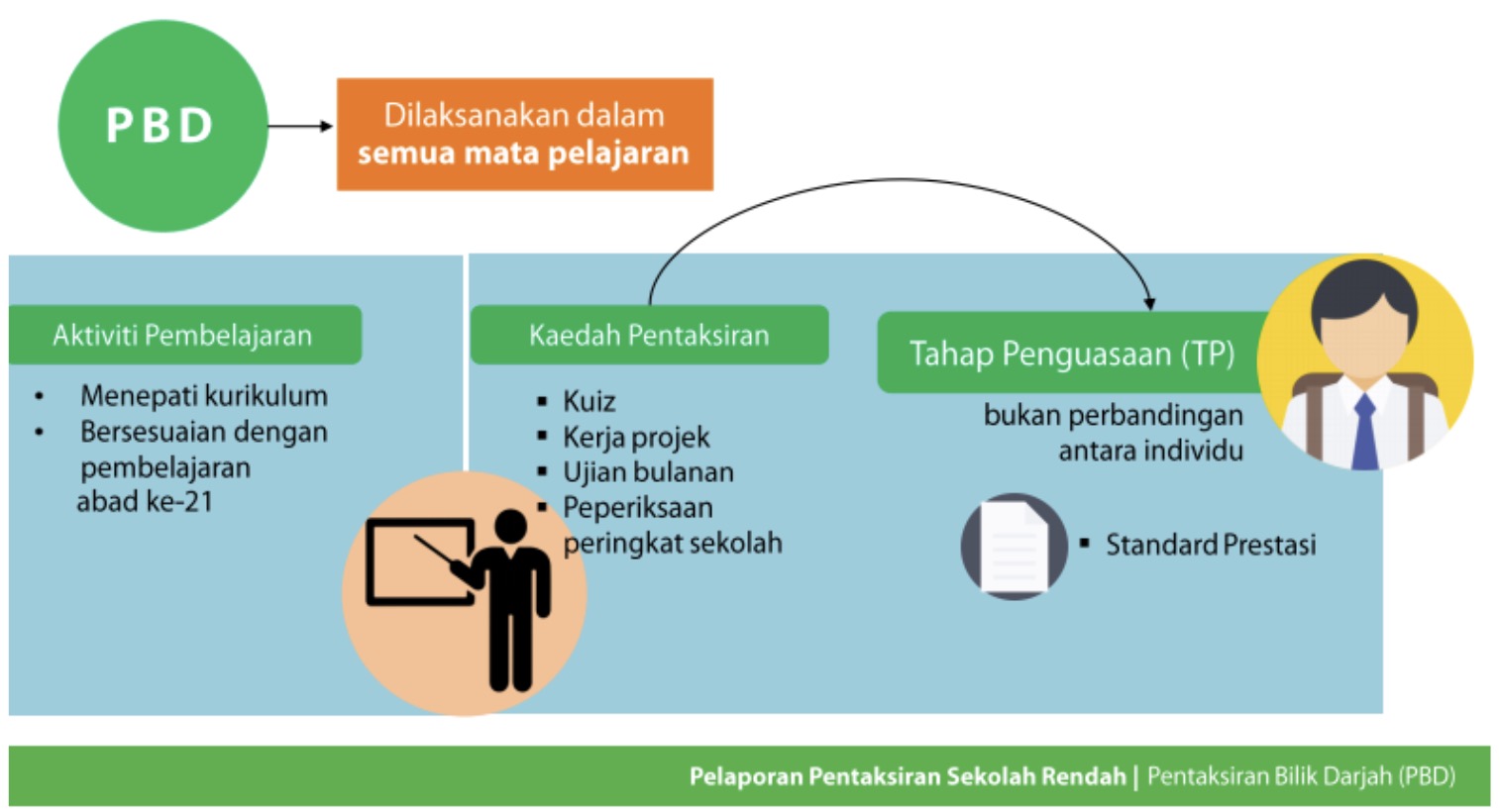 Mastery Level for PBD Class Assessment
| | | |
| --- | --- | --- |
| STAGES | DETAILS | DESCRIPTION |
| Stage 6 | Know, understand and can be made with civilized mentality. | Students are able to utilize existing knowledge and skills to be used systematically, to be positive, creative and innovative in the production of new ideas and can be emulated. |
| Stage 5 | Know, understand and can do with commendable praise. | Pupils use knowledge and apply skills to new situations by following procedures or systematically and consistently and positively. |
| Stage 4 | Know, understand and can do it with civilization. | Pupils use knowledge and perform things with beada that is in accordance with prsedur or analytically and systematically. |
| Stage 3 | Know, understand and can do. | Students use knowledge to carry out skills in a situation. |
| Stage 2 | Know and understand | Students demonstrate understanding by explaining something learned in the form of communication. |
| Stage 1 | Know | Pupils know the basics or can do basic skills or respond to the basics. |
Component 2: Recognize What is PAJSK Pentaksiran Aktiviti Jasmani Sukan Dan Kokurikukum for PPSR
In general, PAJSK is a method of assessing co-curricular activities, extra curriculum and physical fitness to be adopted by all schools and implemented throughout the school year each year.
The PAJSK assesses some of the things involving involvement, participation and performance of students in clubs or associations, uniformed body teams and game sports.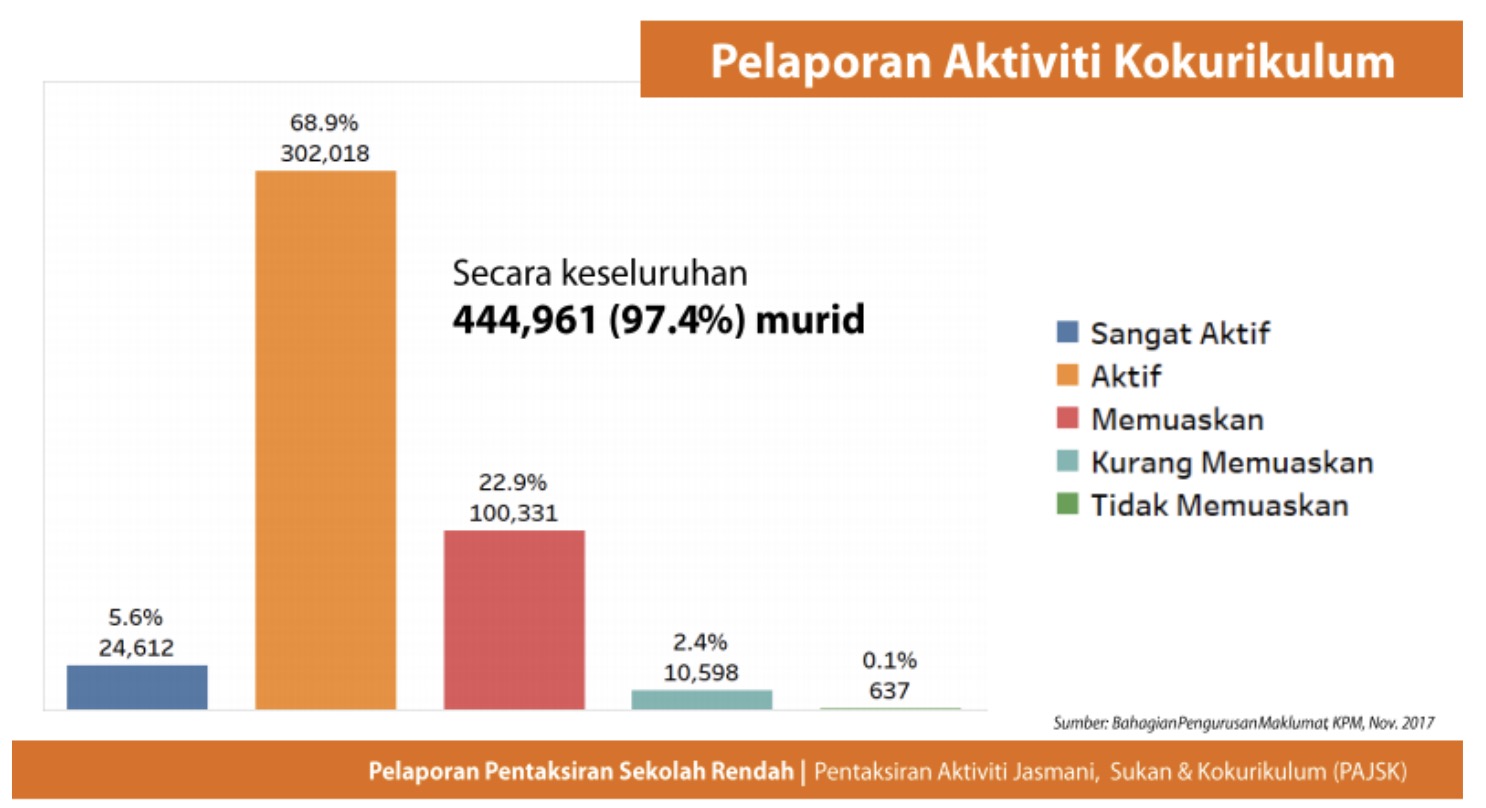 Component 3: Recognize What is Pentaksiran Psikometrik for PPSR
Psychometric assessment is a systematic method for describing a person's psychological characteristics, attributes or tricks in either cognitive or affective domains. This is done through the Special Aptitude Test of Year 6 which is used to see the true inclination of pupils in the following:
Learning area
School flow
Field work
Construct of Various Intelligence Inventory (IKeP) Year 6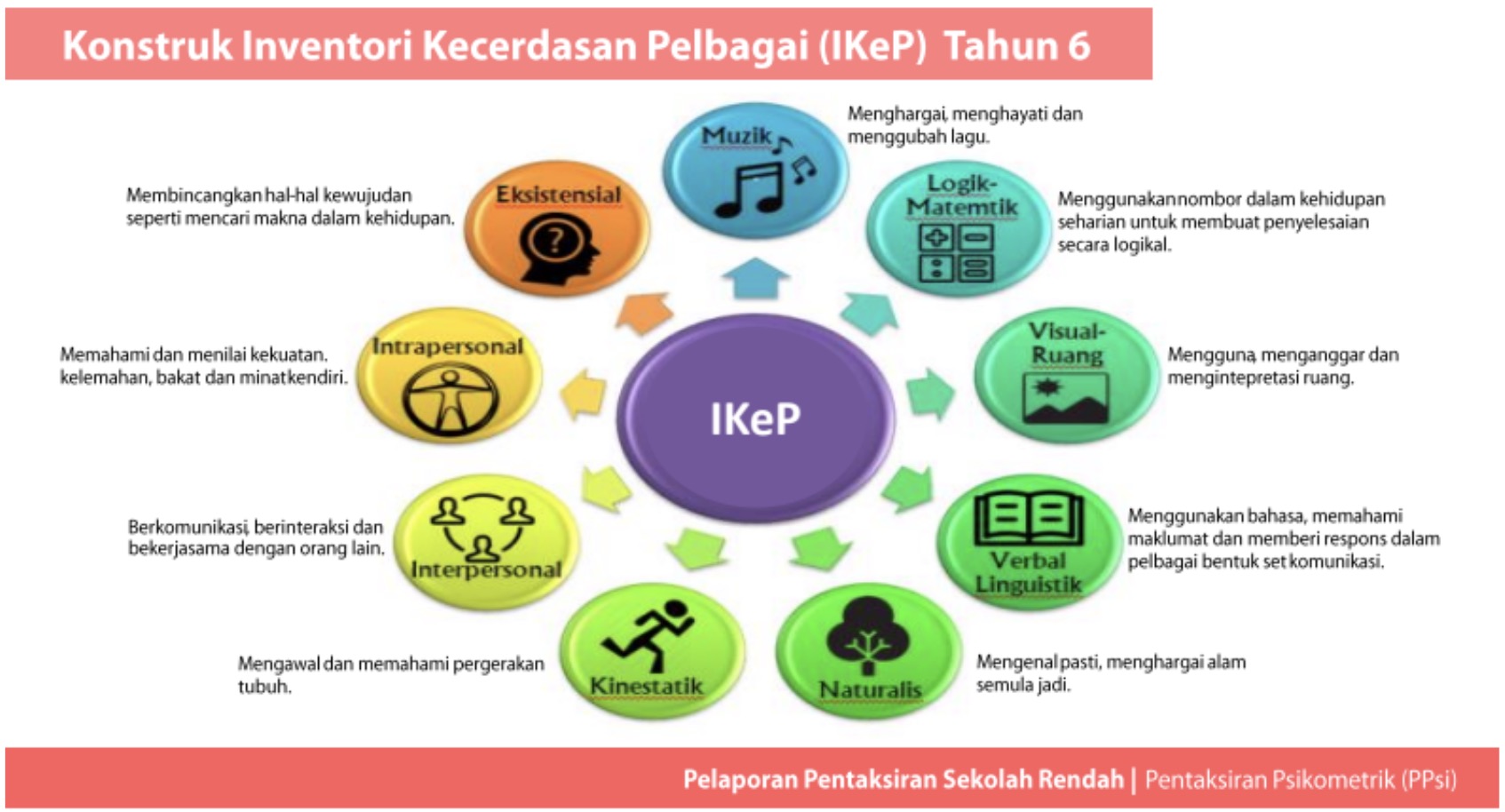 According to MOE, there are 9 IKeP which consist of:
Music
Logic-Mathematics
Visual-Space
Verbal Linguistics
Naturalis
Kinestatik
Interpersonal
Intrapersonal
Existential
Component 4: Recognize What is Ujian Pencapaian Sekolah Rendah (UPSR) for PPSR
UPSR as we already know as a checkpoint to measure pupil skills in four major aspects:
Write
Reading
Calculate
Menaakul
For UPSR reporting, the grade used is as follows:
| | |
| --- | --- |
| GRADE | MEANING |
| A | Excellent |
| B | Good |
| C | Satisfactory |
| D | Minimum Level |
| E | Below Minimum Level |
Special Needs Pupils Component: Identify What is Pentaksiran Alternatif Sekolah Rendah (PASR) in PPSR
PPsi for Murid Berkeperluan Khas (MBK) is done through the Pentaksiran Alternatif Sekolah Rendah (PASR), which measures the achievement of students through an integrated assessment approach in the real situation of pupil needs.
PASR is a comprehensive comprehensive reporting for students with special needs learning problems where they use 1 Kurikulum Standard Sekolah Rendah Pendidikan Khas (KSSRPK). There are 2 main constructs within PASR namely ProKhas 1 and ProKhas 2.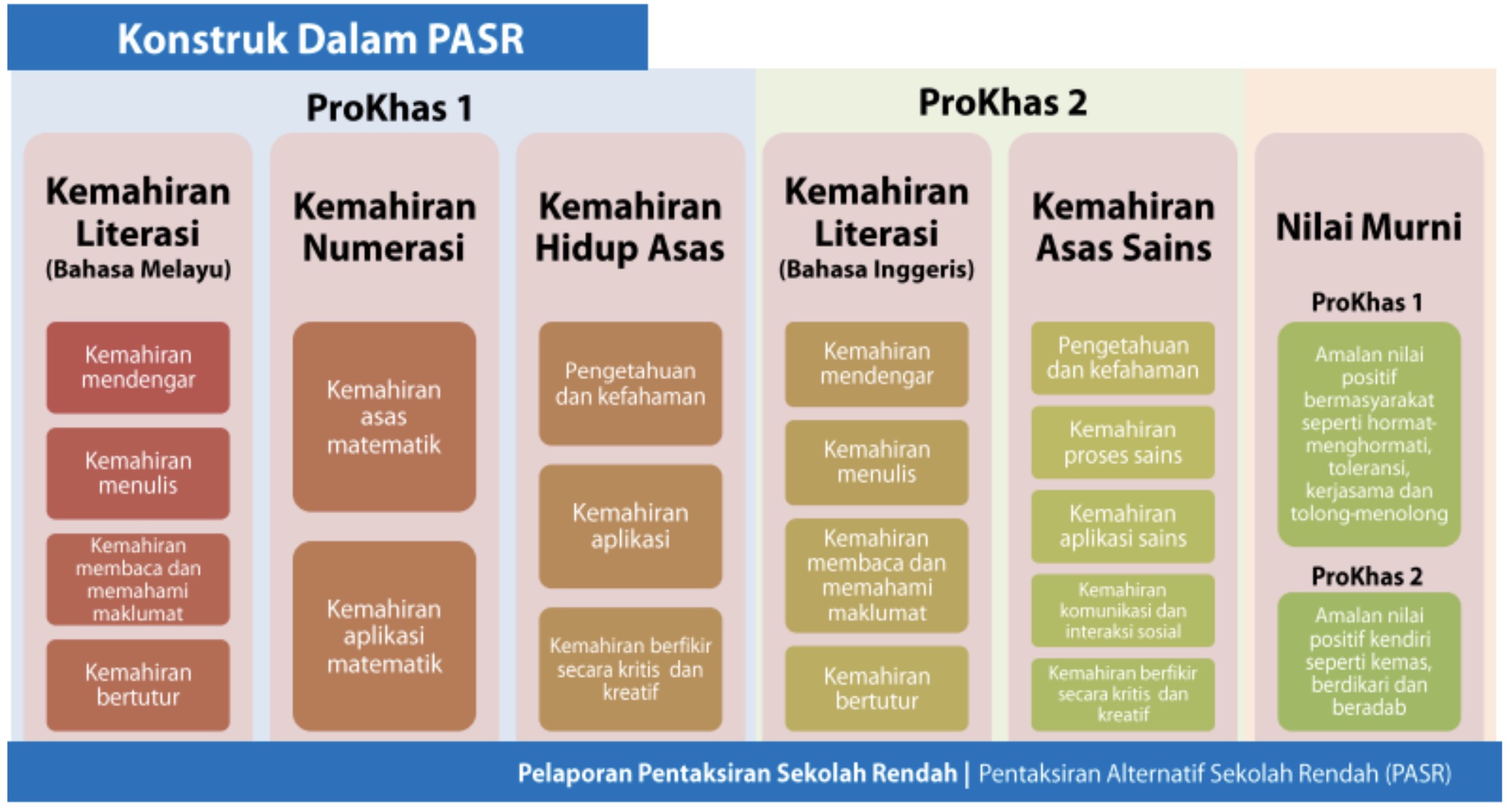 PPSR Benefits to Teachers
GPS average grade and average GPMP subject grades to determine comparisons of exam results are now abolished. Here's a video with an interview with the Chairman of Yayasan Guru Malaysia Bhd Tan Sri Alimuddin Mohd Dom.
Conclusion About Implementation of PPSR For Replacing UPSR
There is a great deal of excellence in Malaysian teachers efforts to make our nation's education system one of the best in the world. Implementation of PPSR is seen as not a burden to teachers instead of replacing UPSR as it improves UPSR into a holistic system of assessment.
Through the PPSR, we will be able to prove that each student has his own uniqueness and not merely the amount of A obtained in the test shows they are successful. In addition to academic achievement, more important is the development of student character. So, let's get together and support the implementation of PPSR Pelaporan Pentaksiran Sekolah Rendah.
Subscribe to PPSR Online Learning Here