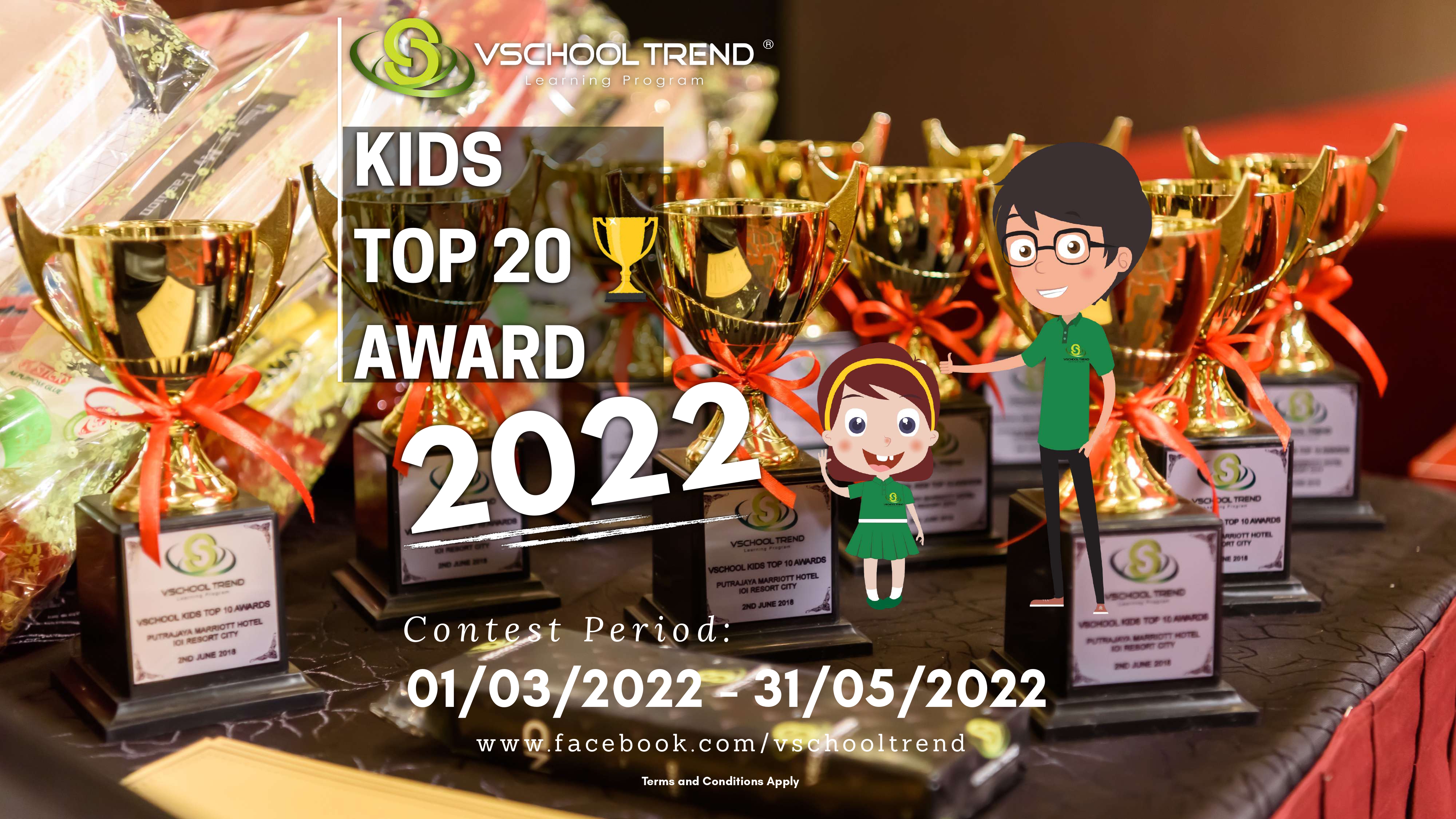 Good news to our subscribers, VSchool Trend has launched some new campaigns for you to take part and win some amazing prizes!
VSchool Kids Top 20 Awards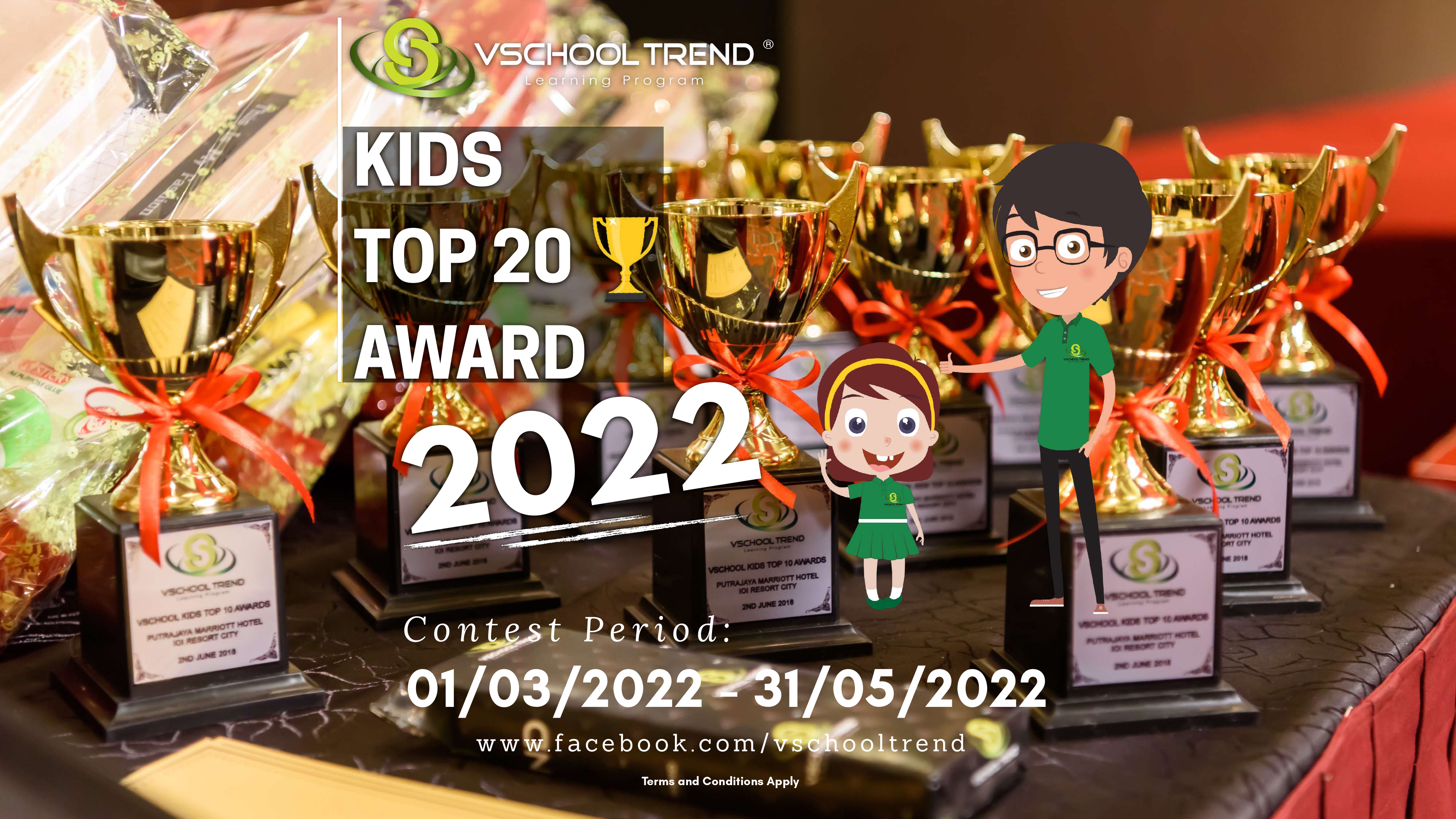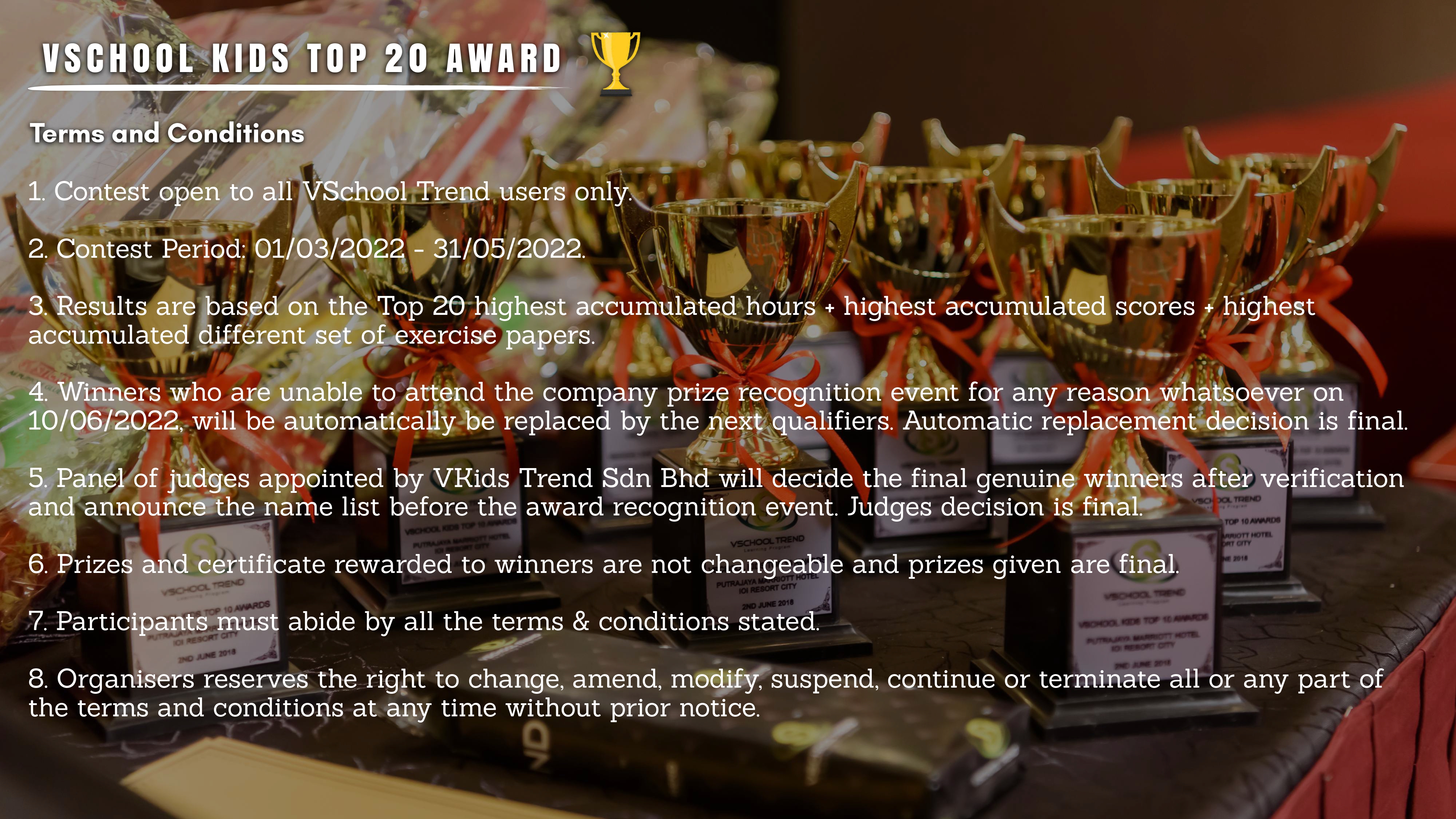 Terms and Conditions
Contest open to all School Trend users only
Contest Period: 01/03/2022 - 31/05/2022
Results are based on the Top 20 highest accumulated hours + highest accumulated scores + highest
accumulated different set of exercise papers.
Winners who are unable to attend the company prize recognition event for any reason whatsoever on
10/06/2022. will be automatically be replaced by the next qualifiers. Automatic replacement decision is final.
Panel of judges appointed by VKids Trend Sdn Bhd will decide the final genuine winners after verification
and announce the name list before the award recognition event. Judges decision is final
Prizes and certificate rewarded to winners are not changeable and prizes given are final.
Participants must abide by all the terms & conditions stated
Organisers reserves the right to change, amend, modify, suspend, continue or terminate all or any part of
the terms and conditions at any time without prior notice.
What is Vschool Trend?
If you stumbled on this page and have no idea what Vschool Trend is about, here's a very short video on what Vschool Trend is about:
Can I Try It First?
Yes of course, if you want to try Vschool Trend for FREE, you can apply for a free trial here. It only takes 1-minute to register for a free trial and we will be in touch with you via Whatsapp and Email to give you your free trial.
I want to Subscribe Online
If you want to subscribe to Vschool Trend and get 365 days full access to our online learning program, you can click HERE to get started immediately. You will also get some cool bonuses which you will be getting when you subscribe using this link:
FREE Secret Parenting Tutorials (Value RM997)
FREE Exclusive Support Community (Value RM897)
FREE How To Use Tutorials (Value RM997)
FREE Parenting Books Collection (Value RM597)
FREE Children Books Collection (Value RM297)
I Want To Be A Vschool Partner And Help More Children
We will be very happy to have you on board with us so that we can help more children all over Malaysia in their education. If this is something that you want to do, feel free to apply to join us here.