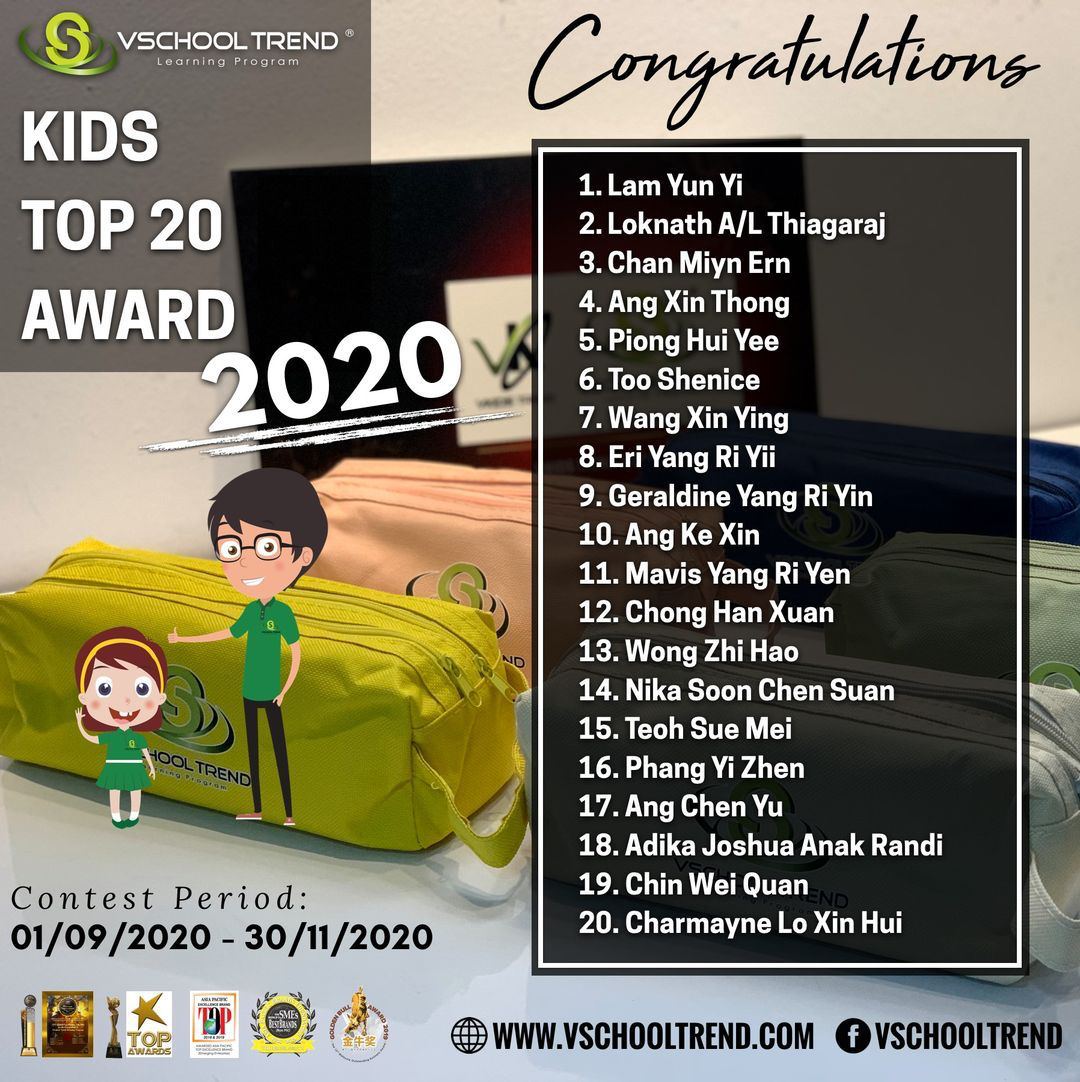 Our Top 20 Award competition has just ended and here are the winners...
Congratulations to all the awardees on the list!
Lam Yun Yi
Loknath
Chan Miyn Ern
Ang Xin Thong
Piong Hui Yee
Too Shenice
Wang Xin Ying
Eri Yang Ri Yii
Geraldine Yang
Ang Ke Xin
Mavis Yang
Chong Han Xuan
Wong Xhi Hao

Nika Soon Chen Suan
Teoh Sue Mei
Phang Yi Zhen
Ang Chen Yu
Adika Joshua Anak Randi
Chin Wei Quan
Charmayne Lo Xin Hui
There is no end to learning, keep it up and shine in the future! 👏
What is Vschool Trend (Free Demonstration)
If you stumbled on this page and have no idea what Vschool Trend is about, here's a very short video on what Vschool Trend is about:
VSchool Trend Learning Program is specially designed to make learning simply easy, exciting and interactive which consists the latest school syllabus for both Primary and Secondary that are suitable for UPSR, PT3 and SPM via online or offline studies.
Click HERE For a FREE Demonstration: https://www.vktrend.com/freedemo
Can I Try It First?
Yes of course, if you want to try Vschool Trend for FREE, you can apply for a free trial here. It only takes 1-minute to register for a free trial and we will be in touch with you via Whatsapp and Email to give you your free trial.
I want to Subscribe Online
If you want to subscribe to Vschool Trend and get 365 days full access to our online learning program, you can click HERE to get started immediately. You will also get some cool bonuses which you will be getting when you subscribe using this link:
FREE Secret Parenting Tutorials - Worth RM997
FREE Exclusive Support Community - WorthRM897
FREE How To Use Tutorials - WorthRM997
FREE Parenting Books Collection - WorthRM597
FREE Children Books Collection - WorthRM297
I Want To Be A Vschool Partner And Help More Children
We will be very happy to have you on board with us so that we can help more children all over Malaysia in their education. If this is something that you want to do, feel free to apply to join us here.