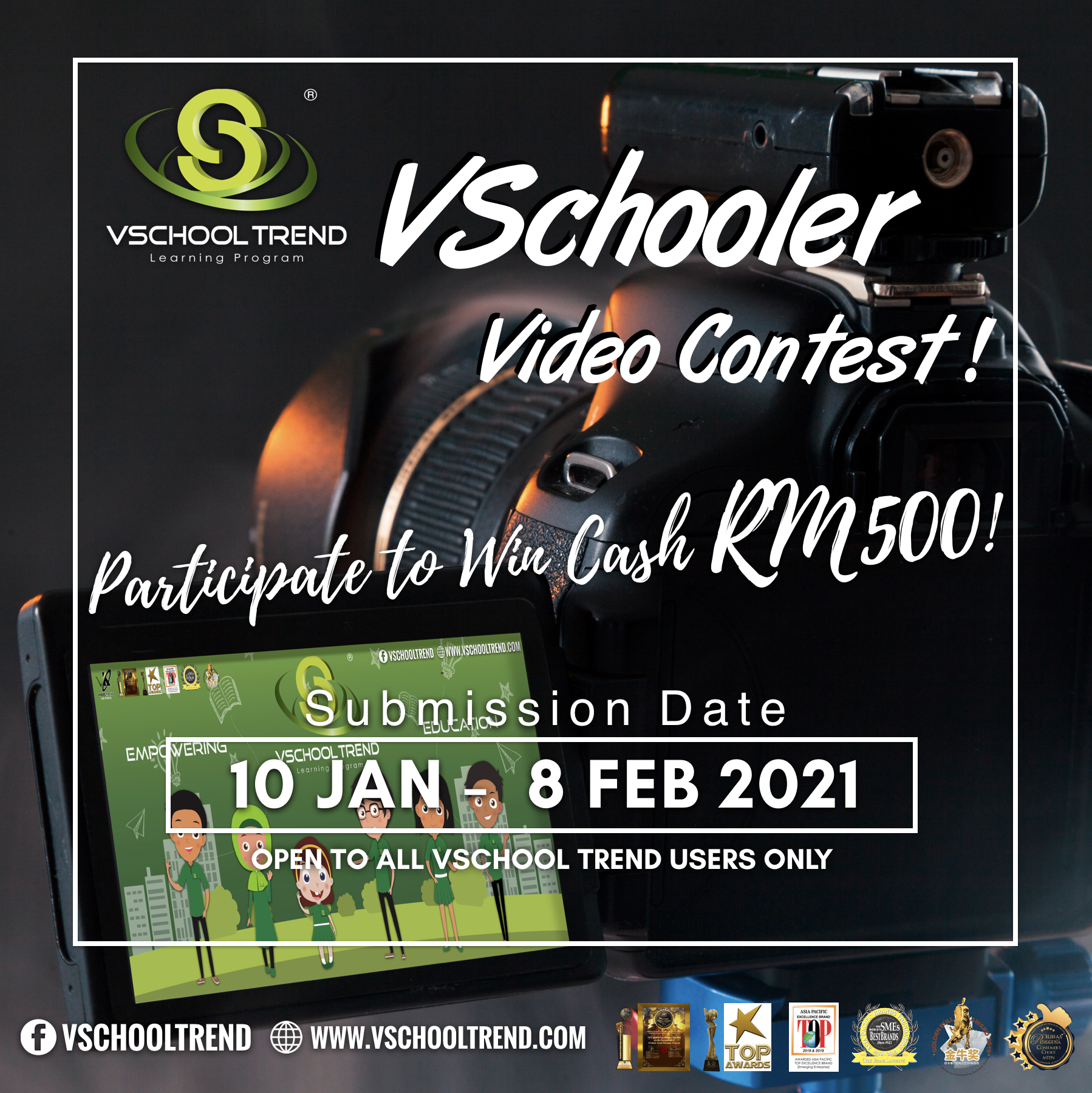 All VSchool Trend users, get your camera ready, join our VSCHOOLER VIDEO CONTEST now!
This competition is open to all Vschool Trend subscribers. So if you haven't already, click here and subscribe first, then come back here and see how to take part...
How To Participate: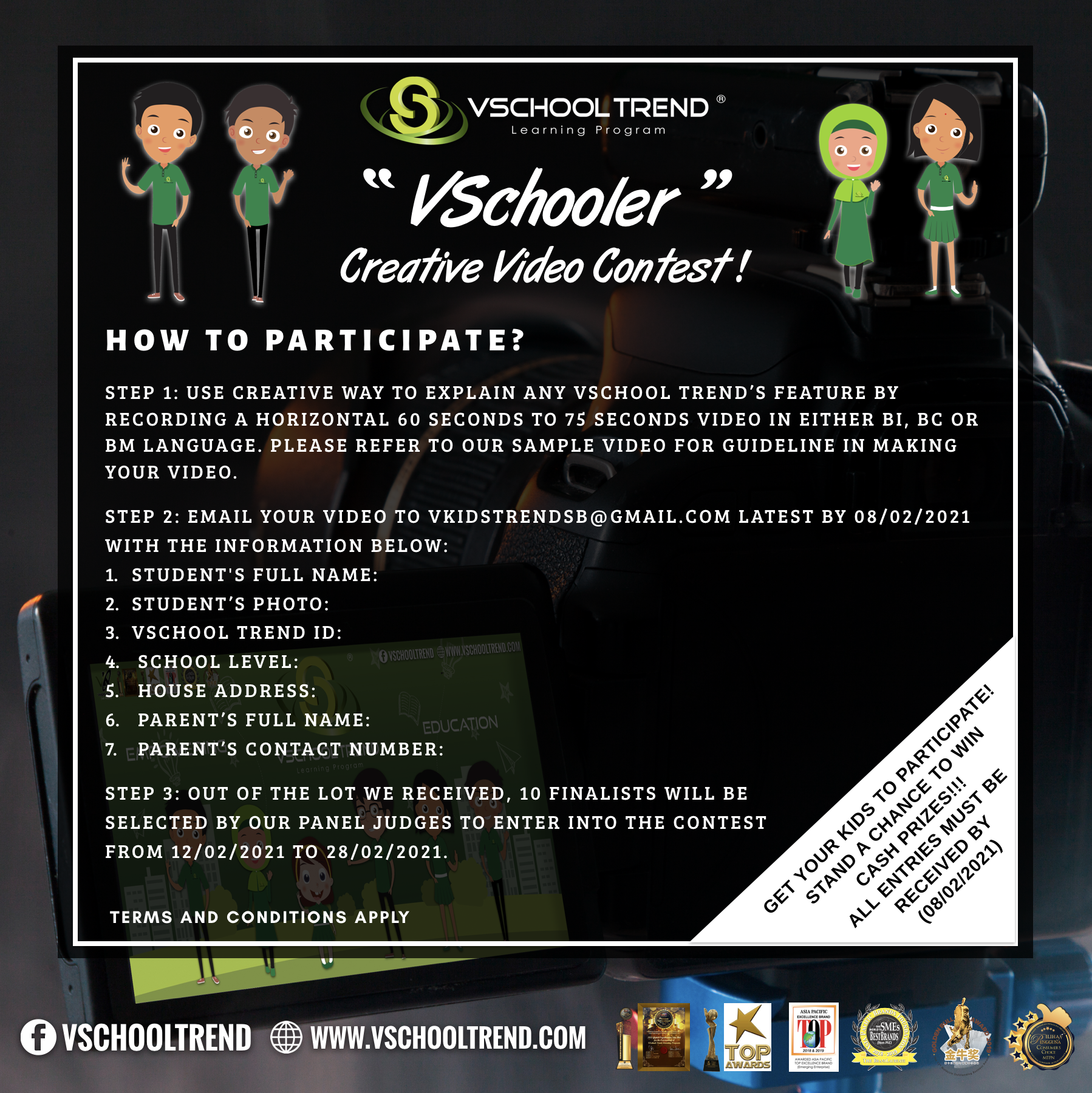 Step 1: Use creative ways to explain any Vschool Trend's feature by recording a horizontal 60-75 seconds video in either BI, BC or BM language. Please refer to our sample video (above) for guideline in making your video.
Step 2: Email your video to vkidstrendsb@gmail.com latest by 08/02/2021 with the information below:
Student's full name:
Student photo:
Vschool Trend ID:
School Level:
House Address:
Parent's Full Name:
Parent's Contact Number:
Step 3: Out of the lot we received, 10 finalists will be selected by our panel judges to enter into the contest from 12-28/02/2021.
Terms & Conditions: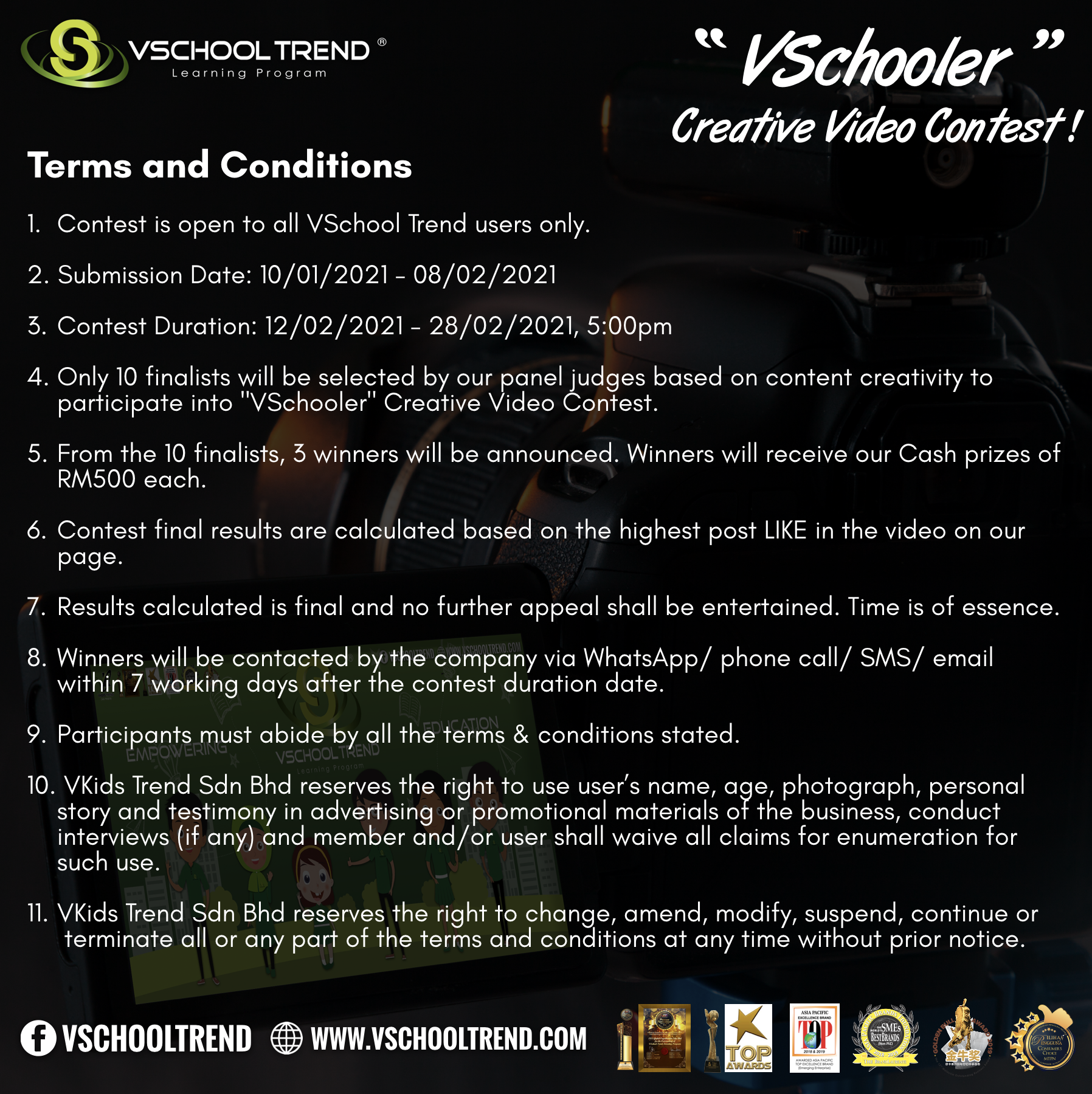 Of course terms and conditions apply so make sure to go through the t&c above so you can increase your chances of winning. Good luck!
What is Vschool Trend (Free Demonstration)
If you stumbled on this page and have no idea what Vschool Trend is about, here's a very short video on what Vschool Trend is about:
VSchool Trend Learning Program is specially designed to make learning simply easy, exciting and interactive which consists the latest school syllabus for both Primary and Secondary that are suitable for UPSR, PT3 and SPM via online or offline studies.
Click HERE For a FREE Demonstration: https://www.vktrend.com/freedemo
Can I Try It First?
Yes of course, if you want to try Vschool Trend for FREE, you can apply for a free trial here. It only takes 1-minute to register for a free trial and we will be in touch with you via Whatsapp and Email to give you your free trial.
I want to Subscribe Online
If you want to subscribe to Vschool Trend and get 365 days full access to our online learning program, you can click HERE to get started immediately. You will also get some cool bonuses which you will be getting when you subscribe using this link:
FREE Secret Parenting Tutorials - Worth RM997
FREE Exclusive Support Community - WorthRM897
FREE How To Use Tutorials - WorthRM997
FREE Parenting Books Collection - WorthRM597
FREE Children Books Collection - WorthRM297
I Want To Be A Vschool Partner And Help More Children
We will be very happy to have you on board with us so that we can help more children all over Malaysia in their education. If this is something that you want to do, feel free to apply to join us here.